Read a selection of AAC success stories.
Success Stories are submitted to Liberator by a person using a Liberator device or their parent or caregiver. The stories offer information about their journey through life with alternative and augmentative communication (AAC) and their communication success. If you would like to provide a Success Story please contact Mick on 01733 374990 or email mick@liberator.co.uk.
AAC changes lives. Meet Toby Hewson, CEO of Just Different. Toby uses an Accent communication aid for his voice. The NHS have put together a video on Augmentative and Alternative Communication featuring Toby.
Watch it here!
Adrian has been using a Liberator Communication Aid since 1991 when he was seventeen. He was awarded a place at Portland College to learn how to use it and started a three year course there in September 1991. During his three years at Portland College Adrian learnt to use the MAP – LLL (Language Learning and Living) and has been using it ever since.

David was born with Athetoid Cerebral Palsy and attends a specialist school and college. He has been using a high tech communication aid since he was 8 years old and has been interested in AAC and technology ever since! When David first started out with AAC, he used a head switch to access his AAC device running a page based system, this took lots of navigation and required a lot of effort combined with switching. Read about David >>
Communication has always been a tricky subject for Lucy; her parents were always concerned that Lucy wasn't understood enough and this led to frustration. She has used a communication book but this was found to 'slow her communication down' as it took too long to look through the pages. The assessment team who had been involved with Lucy thought LAMP would be an approach to explore. Read about Lucy >>
Archie's first love is Surfing. He would surf everyday if he didn't have to go to school. Archie also has Autism and is non-verbal. Archie's SLT heard about LAMP and organised a session for him to give it a try. Archie used the Vantage Lite with Unity 60 sequenced. Within 12 minutes, he was making choices of what and which colour food he wanted to eat! Read about Archie >>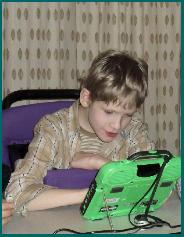 Mum has this to say about James. "James is a lively, happy 9 year old. He is a constant joy to us and a delight to anyone who meets him. However James has posed a challenge to everyone to find the 'hook' that would inspire him and help him interact with the world. Read about James >>
John is able to independently use his talker when he is out in the community, chatting to people he knows in the local area and to total strangers, who take an interest in how he communicates. Read about John >>